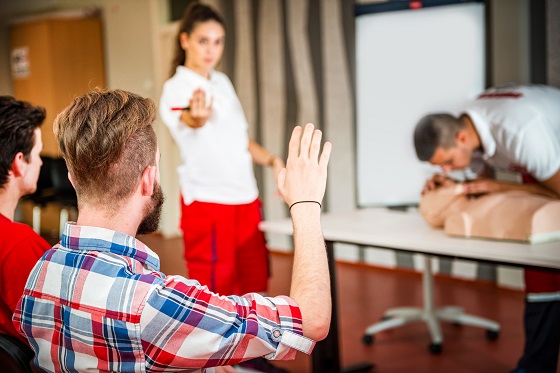 The basic training courses offered at the Response Institute include: BLS, ACLS, CPR, First Aid, PALS, AED, and various instructor classes. We also offer some variations of those classes, renewal courses, and skills evaluations training. The price of each class depends largely on the amount training required to complete the class.
More advanced CPR certifications usually cost more, because they are more involved, require more equipment, and take more time. In this article, we'll do our best to offer up some very general information about the cost of obtaining a CPR Certification.
Free CPR Training
If you're employed at a large company or volunteer at a non-profit, express your interest in obtaining a CPR Certification. Many organizations are thrilled to pay for an employee or a volunteer to go through a CPR training course or obtain a CPR certification.
When CPR Certification is a necessary requirement of your professional license, such as for nurses, employers aren't usually required to pay for that certification, though many still do. Most employers will pay for the class if CPR training is a requirement for the job, so check with your employer.
Cost of Response Institute CPR Classes (Subject to Change at Any Time):
Automated External Defibrillator (AED): As of October 2016, we offer a combined AED and CPR Training Class that costs $75, including the cost for course materials.
Advanced Cardiac Life Support (ACLS): As of October 2016, we offer an initial ACLS Training Class for $265, including the cost of classroom materials.
Basic Life Support (BLS): As of October 2016, we offer a BLS Training Class for healthcare providers that costs $75, including the cost of course materials.
First Aid: As of October 2016, we offer a basic First Aid Training Class that costs approximately $50, including the cost of classroom materials.
Pediatric Advanced Life Support (PALS): As of October 2016, we offer an Initial PALS Training Class that costs $225, including the cost of training materials.
Cost of NOT Getting a CPR Certification
Certification in CPR has the potential to open new doors that you might never have suspected. Employers like having CPR trained people in the workplace, and not-for-profits love having volunteers that know how to give CPR.
What happens when someone needs rescue breathing instead of chest compressions? Would you know how to handle the situation? Even with extensive training and hands-on practice, it's difficult to make correct judgement calls when it pertains to saving a person's life.
Being armed with CPR & first aid training helps ensure you'll know what to do when faced with an emergency scenario. Not having CPR training could mean the difference between life and death, as well as the unnecessary loss of a loved one, friend, or stranger.
CPR Training & Certification Classes
Whether obtaining a CPR certification is a requirement of your job, or you just want to be armed with the ability to help a loved one, there's a good chance you'll encounter at least one person in need of CPR at some point during your lifetime.
Contact us to learn more about CPR training or the different CPR certifications offered at our training facility.
Get CPR Training Today!