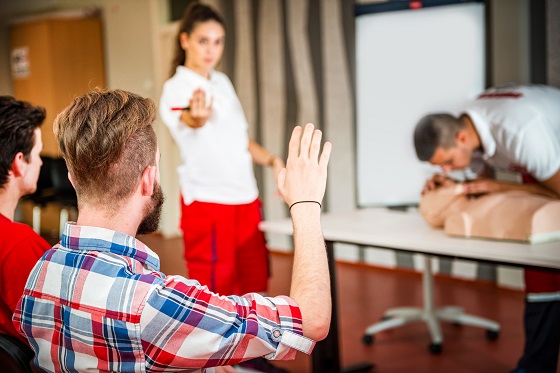 Corporate CPR training is an efficient and effective way to ensure all of your employees have the CPR and associated certifications – and necessary renewals – to remain in your employ.
What is Corporate CPR Training?
Unlike typically CPR courses, where individual students enroll and attend a class on their own, corporate courses are given to private groups in the location of your choice. In some cases, employees attend their classes at one of multiple Richmond- and Raleigh-area CPR and first aid training centers. In others, particularly for really large groups, American Heart Association-certified (AHA) instructors will come to your place of business and run the courses on-site.
Bonus Tip: While corporate CPR training saves you time and energy, there's another bonus to offering this benefit to your employee: company appreciation and loyalty. Employees appreciate when their employers provide the training required for their job and that appreciation translates into an improved company culture.
Keep in mind that "corporate" can also translate as "group." Have a crew of young adult lifeguards or seasonal employees that require certification? Interested in starting a babysitting club for your area? Interested in doing a family CPR class with all the cousins invited? Corporate CPR training if available to you too.
Corporate CPR Training Costs Vary
The costs for corporate – or group – CPR certification courses vary according to the number of people in your group and the levels of certification required. We offer a variety of CPR courses depending on the needs of the group.
Since the cost per person for a traditional CPR course ranges from $75 to $300 or more, depending on the level of certification desired, you'll see that the costs for group courses yield significant savings.
All of the prices listed below are averages and are quoted for 12-person classes. Extra fees may apply if you have a larger group or if you request that additional topics/certifications are covered.
Basic CPR.  This course covers the basics of adult CPR, including how to assess the situation and provide rescue breathing and chest compressions. We include information for infant and child CPR at no additional cost. The class runs between three and four hours. $500
CPR & AED. In addition to adult, child and infant CPR basics, this course also includes information about AEDs (Automated External Defibrillator). Above and beyond provided coursework and instruction, students have ample time to practice using an AED until they're comfortable. $600
CPR, AED & First Aid. Many industries prefer their employees to be certified in First Aid as well as CPR. From basic cuts and minor burns, to more severe injuries caused by traumatic accidents, students leave with all the knowledge necessary for first responders to handle medical emergencies until EMT or other medical personnel take over. $800
BLS for Healthcare Providers. Basic Life Support (BLS) for Healthcare Providers is similar to a CPR class, however, it is designed specifically for those who work in the healthcare industry. These courses spend more time addressing the types of scenarios one might experience in a clinical environment and practicing more specific techniques that save lives in these situations. $700
ACLS Life Support. Advanced Cardiac Life Support (ACLS) is another industry-specific certification, commonly required by hospitals and medical clinics. This course takes CPR a step further, addressing more acute situations that cause cardiac emergencies. These courses are run in a more collaborative style, with professionals sharing their own experiences, running through simulations and discussing various responses. $700
You can customize corporate CPR class to include any additional information or certifications you feel would benefit your employees or group.
Most CPR and CPR-related certifications are valid for two-years, after which they must be renewed. In some cases, you may decide it makes sense to have in-person courses for first-time students and offer online renewal modules for the rest of the group. Keep in mind, however, that online courses are done individually and require you or your HR team to track valid certification and renewal dates. This is why most companies opt to have employees attend in-person classes – streamlining in-house paperwork and the tracking of expiration dates.
Corporate CPR Courses Protect Your Company's Bottom Line
CPR saves lives every day – and the last thing you need is to jeopardize an employee's or customer's life if an accident happens and nobody knows what to do. Also, if your industry typically required CPR certification, and your company doesn't enforce it – your brand reputation is on the line, and litigation is a definite potential.
Scheduling corporate CPR classes also makes HR staffs happy, because it's easier to collectively track who's certified, and who's not, without having consulting individual employee files. 
Interested in scheduling a corporate CPR training course for your employees or special group? Contact us here at CPR Consultants. We provide fun, comprehensive CPR courses, following AHA guidelines.
Contact Us to Schedule Corporate CPR Training Today!